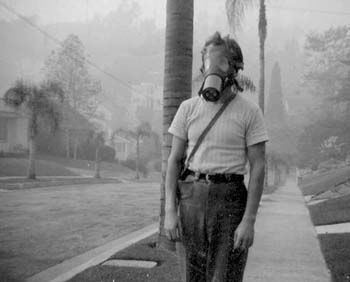 In 1996 Cornell astrophysicist and science popularizer Carl Sagan posed the question, "What are conservatives conserving?" It was not something he asked lightly. The question appeared in his final book following a prolonged battle with bone marrow disease. Faced with his own mortality, he wanted to understand the individuals whose actions, whether consciously or not, threatened the lives of so many others. Sagan was a passionate advocate for science but, first and foremost, he was an advocate for humanity itself.
A kindred spirit, someone representing the same passion for science and his fellow man, is found in the Stanford biologist Paul Ehrlich who was both a colleague and a friend of the late astronomer. Both scientists have been attacked by the political right with as much venom as their scientific results have produced admiration from their colleagues. Ehrlich has published hundreds of peer-reviewed studies as well as dozens of books in his long career and is now featured in a profile by Steve Olson at SeedMagazine.com.
Ironically, at this time last year Ehrlich was under attack. Hoover Institute Fellow Mary Eberstadt, writing in the conservative Catholic journal First Things, pilloried Ehrlich's 1968 book The Population Bomb as an "apocalyptic thesis" that amounted to little more than "doom-mongering." The passage that Eberstadt objected to was the following:
The battle to feed all of humanity is over. In the 1970s and 1980s hundreds of millions of people will starve to death in spite of any crash programs embarked upon now.
Eberstadt held that such a shocking claim was an example of a scientist trying to gain publicity by publishing his "direst thoughts about humanity" and that it was part of a general trend that hoped to undermine support for the Catholic ban on contraception (coincidentally decreed by the Pope just two months before The Population Bomb's release). One problem with Eberstadt's condemnation is that the claim she objects to is actually true. An estimated 100 to 200 million people, mostly children, died of hunger in those two decades alone (and the trend hasn't slowed down).
Nevertheless, for Eberstadt and many conservative pundits like her, the general feeling is that scientists should stick to assembling the facts and leave the commentary to people like them. Whether the issue is environmental degradation, global warming, stem cells, nuclear technology or concerns about genetically modified foods and chemical additives the resounding call from conservatives is that scientists should butt out of the debate centering on . . . science.
The most cited example of "inappropriate" scientific meddling in political issues was the nuclear winter debate from the early 1980s championed by none other than Carl Sagan and Paul Ehrlich. Today it is most frequently used as a justification to cast doubt on the scientific consensus for global climate change. Michael Crichton, author of Jurassic Park and The Andromeda Strain, made headlines a few years ago when he gave a speech before the California Institute of Technology stating:
[N]uclear winter was a meaningless formula, tricked out with bad science, for policy ends. It was political from the beginning, promoted in a well-orchestrated media campaign that had to be planned weeks or months in advance. . . . I regard consensus science as an extremely pernicious development that ought to be stopped cold in its tracks. Historically, the claim of consensus has been the first refuge of scoundrels; it is a way to avoid debate by claiming that the matter is already settled. Whenever you hear the consensus of scientists agrees on something or other, reach for your wallet, because you're being had.
For nearly two decades prior to his death in 1996 Carl Sagan had been the focus of repeated attacks by conservative critics who objected to his public advocacy of environmental concerns and his opposition to nuclear war. Most people today remember Sagan as he was presented in his PBS series Cosmos; as a frail waif of a man, permanently attired in a turtle-neck sweater and who had a funny way of pronouncing billions. But few remember him for his outspoken advocacy for the issues he believed in, issues that wouldn't become mainstream until their champion left the shores of our cosmic ocean.
In 1983 Sagan penned an article entitled "The Nuclear Winter" for Parade magazine, a Sunday supplement that reached an audience of an estimated twenty million readers. This was the height of Reagan's America, a place where rhetoric about "the evil Empire" was as pervasive as the idea that a nuclear war could be won (the fact that a policy known as MAD, or Mutual Assured Destruction, actually existed and wasn't immediately ridiculed is just one example illustrating the tenor of the time). After summarizing the evidence that would be published in the journal Science the following month, Sagan wrote to the American public that:
It is now almost 40 years since the invention of nuclear weapons. We have not yet experienced a global thermonuclear war -- although on more than one occasion we have come tremulously close. I do not think our luck can hold forever. Men and machines are fallible, as recent events remind us. Fools and madmen do exist, and sometimes rise to power. Concentrating always on the near future, we have ignored the long-term consequences of our actions. We have placed our civilization and our species in jeopardy.
The next day, October 31st, Carl Sagan attended a conference in Washington, D.C. entitled "The Long-Term Worldwide Biological Consequences of Nuclear War" headed by himself and Paul Ehrlich. Right on the heels of Sagan's paper on nuclear winter, popularly known as TTAPS after the first letter of each authors' last name, Paul Ehrlich also published a study that looked at the biological threat posed by nuclear winter. As reported by Time magazine:
Sagan and Ehrlich picked as their "baseline case" a 5,000 megaton war. . . The results of such a war: a cloud of dust and smoke weighing 1.2 billion tons rapidly envelops the Northern Hemisphere and swiftly swirls into the Southern Hemisphere as well, blocking out 90% or more of the sun's light. Surface temperatures plunge to an average of --13° F and remain below freezing for three months, even if the war is fought in the Northern Hemisphere summer. Nothing can grow; those humans who survive the blast and radiation of the explosions freeze or starve to death. At best, Ehrlich figures, small bands of hunters and gatherers would be left in the Southern Hemisphere.
Both scientists also appeared together on ABC Nightly News to advocate their findings and both wrote numerous articles and gave public lectures. The condemnations came pouring in. Conservative heavyweights such as Henry Kissinger, Richard Perle and Edward Teller denied their science in writing and on television. Conservative newspapers and magazines attacked their work even before their studies had been released and the accusations of political bias continued coming. Political scientist Leon Gouré, an analyst at the military think tank known as the RAND Corporation, maligned them in The Washington Times as scientists "who engage in 'doomsday' predictions." Televangelist Jerry Falwell claimed they were promoting an "Armageddon ideology," while conservative commentator William F. Buckley, Jr., editor of the National Review, condemned such advocacy as "politically inspired lying."
Nevertheless, their work fundamentally changed the debate on nuclear weapons. In a February 12, 1985 interview with the New York Times President Ronald Reagan detailed nuclear winter as a reason why the US and Russia should reduce their stockpiles:
A great many reputable scientists are telling us that such a [nuclear] war could just end up in no victory for anyone because we could wipe out the Earth as we know it.
And, according to Andrei A. Kokoshin, former First Deputy Minister of Defense in Russia in his 1998 historical study of Soviet Strategic Thought (p. 136):
In the first half of the 1980s, the findings of U.S. and Soviet physicians on the aftermath of nuclear war and the 'nuclear winter' theory noticeably influenced the Soviet leadership.
Furthermore, to the chagrin of those who announced that the threats from nuclear winter had been exaggerated, a follow up study in 2007 published in the Journal of Geophysical Research (pdf here) corroborated the bulk of their findings:
A global average surface cooling of -7°C to -8°C persists for years, and after a decade the cooling is still -4°C. Considering that the global average cooling at the depth of the last ice age 18,000 yr ago was about -5°C, this would be a climate change unprecedented in speed and amplitude in the history of the human race. The temperature changes are largest over land ... Cooling of more than -20°C occurs over large areas of North America and of more than -30°C over much of Eurasia, including all agricultural regions.
While disagreements over the specifics remain (afterall, computer models are based on many uncertainties) the evidence is consistent that even a low-level nuclear war would be devastating to human civilization, a view even shared by those critics who favor the term "nuclear autumn." What is most revealing about the political firestorm that erupted over the nuclear winter controversy is that the fiercest critics objected based primarily on politics not science. It was a turf war and scientists were fundamentally challenging powerful elements in both military and foreign policy circles, and they were winning. In the free market of ideas a scientific argument had trounced military drum beating. Should Sagan and Ehrlich have instead published their papers and then sat idly by to wait for political action? Supposing that their science was fatally flawed, would there have been any harm (other than to their reputations) by presenting their ideas to the public? When important issues that affect millions of people are at stake doesn't the harm of inaction outweigh the harm of caution?
Science, through it's careful reasoning and slow, plodding rate of change, is an inherently conservative doctrine. This is what gives scientific findings such weight and why scientific consensus, while not foolproof, is a powerful and persuasive source of knowledge. Political conservatives would do well to understand this conservative nature of the scientific enterprise. Scientists are trained to be devoted to finding patterns in evidence and to mercilessly critique the conclusions of their colleagues. Unlike in politics, scientists rise more through merit than personality. They represent a culture that is badly missing in our political discourse: skepticism and honest debate.
So what is the harm in having more scientific voices, of all stripes, present in the public sphere? Economic analysts are everywhere in the mainstream news offering their prescription for a litany of social ills. Doctors and health professionals appear nightly to discuss the latest medical scares. Political scientists give their estimates on what Sarah Palin's resignation speech means for the 2012 elections (not a lot is the general conclusion). Why shouldn't scientists offer their skills to important questions of public policy? Leaving the data in the hands of political pundits and partisans is abdicating a responsibility that should be viewed as a public trust.
In the final analysis, scientific advocacy is only as good as the science it's based upon. As a world-renowned scientist, Paul Ehrlich has been championing the public's right to know for more than forty years. Like his colleague who dared to dream that science could help build a better world, our society can only benefit from his questions, his search for answers and his willingness to put his conclusions into action.