Japanese artists' depiction of the horrors at Hiroshima.
Hiroshima Peace Memorial Museum
On August 6, 1945 the United States dropped "Little Boy," the first of only two nuclear bombs ever used in warfare, on the Japanese civilians at Hiroshima. In an instant flash of light an estimated 140,000 people were either incinerated or suffered an agonizing death that lasted several days. The standard mythology is that President Truman dropped the bombs at Hiroshima and Nagasaki (three days later on August 9) in order to avoid having to send half a million American soliders to their deaths in a ground invasion of Japan.
The problem with this narrative is that military estimates at the time (later found to be exaggerated) came nowhere near that level. Furthermore, it has since been revealed that Japanese officials had approached US representatives to consider their surrender on two conditions: that the Emperor be allowed to remain and that some territory be retained by the Japanese.
Writing in the conservative foreign policy journal Diplomatic History, J. Samuel Walker discounts the idea that Truman was thinking of American servicemen in his decision to use nuclear weapons:
The consensus among scholars is that the bomb was not needed to avoid an invasion of Japan and to end the war within a relatively short time. It is clear that alternatives to the bomb existed and that Truman and his advisers knew it. . . It is certain that the hoary claim that the bomb prevented one-half million American combat deaths is unsupportable.
Barton J. Bernstein, writing in the same journal, held that the United States had no intention of allowing this powerful new weapon, which they had already spent millions of dollars developing, to go to waste:
In 1945, American leaders were not seeking to avoid the use of the A bomb. Its use did not create ethical or political problems for them. . . They did not regard it as profoundly immoral, they were largely inured to the mass killing of the enemy, and they also looked forward to the A-bomb's international-political benefits - intimidating the Soviets.
This in spite of the fact, as Bernstein reveals, that there were numerous peace offers from Japanese officials that could have been pursued:
During the summer, Japanese middle-level diplomats and military attaches in Switzerland and elsewhere in Europe approached intermediaries and American officials to try to move toward a surrender. In June, one Japanese group proposed continuation of the emperor and retention of Korea and Formosa as the main terms for surrender.
These overtures were ignored and one of the greatest war crimes in history was perpetrated. However, as bad as the initial attack was, the resulting nuclear Cold War with the Soviet Union put the planet itself in peril. As I related in my recent post The Population Bomb, Nuclear Winter and the Role of Science in Public Advocacy, the threat of nuclear war was not just one for those affected by the explosion itself. The radioactive fallout would continue to poison people for decades and smoke from the burning cities could radically alter the Earth's climate. Why would any rational nation risk such calamity? What is remarkable is that, to this day, there are some who still hold on to the erroneous idea that US planners were responding to a threat from Soviet aggression.
For example, in a recent editorial in the Wall Street Journal, Liz Cheney (the eldest of the two Cheney daughters) repeated one of my favorite Cold War fairy tales: the United States won the Cold War because we are good and they were evil.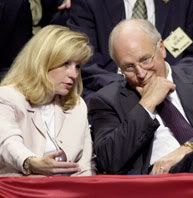 The truth, of course, is that the Soviets ran a brutal, authoritarian regime. The KGB killed their opponents or dragged them off to the Gulag. There was no free press, no freedom of speech, no freedom of worship, no freedom of any kind. The basis of the Cold War was not "competition in astrophysics and athletics." It was a global battle between tyranny and freedom. The Soviet "sphere of influence" was delineated by walls and barbed wire and tanks and secret police to prevent people from escaping. America was an unmatched force for good in the world during the Cold War. The Soviets were not. The Cold War ended not because the Soviets decided it should but because they were no match for the forces of freedom and the commitment of free nations to
defend liberty and defeat Communism.
The reality is a little different. Allow me to lay it out as simply as I can:
We started the Cold War.
Russia repeatedly sought negotiations with the United States.
Reagan's policies only extended the conflict.
(As a side note, it's somewhat telling how free and open the United States is considering that Cheney was appointed to be Assistant Deputy Secretary of State while her father was Vice President, and that her husband was given the plush job of Acting Associate Attorney General at the Department of Justice. No Soviet-style nepotism happening there, I'm sure.)
Of course, the Soviet regime was nothing to celebrate. Stalin was a ruthless thug intent on maintaining power, but he was not interested in world domination. Subsequent Russian strong men were far more concerned with domestic issues than international ones. The exception, of course, was the threat felt from the United States. From the Russian point of view the idea that the United States might initiate another attack using nuclear weapons was very real. The historical record largely confirms these fears.
For example, in 1961 Lord Solly Zuckerman, chief scientific advisor to the British Ministry of Defense (also, interestingly enough, a pioneering primatologist), met with Robert S. McNamara's Assistant Secretary of Defense where he was told:
First we need enough Minutemen [silo-launched missiles] to be sure that we destroy all those Russian cities. Then we need Polaris [submarine-launched] missiles to follow in order to tear up the foundations to a depth of ten feet. . . Then, when all Russia is silent, and when no air defenses are left, we want waves of aircraft to drop enough bombs to tear the whole place up down to a depth of forty feet to prevent the Martians recolonizing the country. And to hell with the fallout. (cited in Sagan and Turco, A Path Where No One Thought, p. 228).
Writing in The Atlantic, Fred Kaplan revealed that President Kennedy was considering a "first strike" option against the Soviet Union in 1961. As Kaplan reported from declassified documents, the plan:
included a very detailed description of the existing U.S. nuclear-war plan. SIOP-62, as the plan was known, called for sending in the full arsenal of the Strategic Air Command--2,258 missiles and bombers carrying a total of 3,423 nuclear weapons--against 1,077 "military and urban-industrial targets" throughout the "Sino-Soviet Bloc." Kaysen reported that if the SIOP were executed, the attack would kill 54 percent of the USSR's population and destroy 82 percent of its buildings.
However, in 1963 Kennedy insisted that a "no first use" clause be added to the Single Integrated Operational Plan (SIOP) on tactical nuclear planning (the idea being that US nuclear strikes would only be carried out in the event of a Soviet strike, or a preemptive one if US planners feared a strike was imminent). In the late 60s and early 70s the policy migrated back from the notion of nuclear weapons as a counterforce to their actual use as offensive weapons.
Richard Nixon and Henry Kissinger in 1972 / AP
According to William Burr in the Journal of Cold War Studies:
Declassified documents disclose for the first time the extraordinary characteristics of the SIOP and U.S. strategic planning as of the late 1960s and details on Nixon's first SIOP briefing. The war plan comprised five attack options involving strikes by thousands of weapons targeting Soviety military forces, nuclear and non-nuclear, and urban-industrial centers, with huge numbers of casualties expected. Consistent with targeting strategy since the 1950s, the attack options were retaliatory or preemptive, depending on the warning time available to decision makers. In addition, a launch-on-warning option was available, although senior officials understood its great risk.
It was estimated that nearly a hundred million Russians would die. While the official policy was that such an attack would only be used in response to a Russian surprise attack, the Nixon administration effectively eliminated the "no first use" doctrine. But, even though Nixon felt the United States should be perceived as a "madman" in order to intimidate their adversaries, Nixon wasn't a complete monster. As Henry Kissinger expressed the president's opinion about US involvement in a nuclear war, "to have the only option of killing 80 million people is the height of immorality." Therefore, as internal documents show, Nixon wanted more options in his use of nuclear weapons, and charged Henry Kissinger "to devise ways to give the president more useful military choices."
Among these choices Nixon was interested in employing was in the conflict in Vietnam. As Burr, along with Jeffery Kimball, reported upon the release of new documents at The National Security Archive:
Nixon told Kissinger about his interest in using "a nuclear bomb" as an alternative to bombing North Vietnam's dike system, which was also a step he strongly favored. A nuclear attack against another target, he assumed, would cause fewer civilian casualties yet make a powerful "psychological" impact on Hanoi and the Soviets.
Fortunately, Nixon was dissuaded from his plan. Soon after, however, Secretary of Defense James R. Schlesinger, outlined his policy of limited nuclear options (LNOs) that was considered a "compromise between the optimists of the minimum deterrence school and the pessimists of the so-called war-fighting persuasion," according to Colin Gray and Keith Payne writing in the establishment journal Foreign Policy.
However by 1980, with Ronald Reagan on the political stage, military hawks didn't feel this "compromise" was sufficient. As Gray and Payne continue in their article "Victory is Possible":
If American nuclear power is to support U.S. foreign policy objectives, the United States must possess the ability to wage nuclear war rationally. . . The United States should plan to defeat the Soviet Union and to do so at a cost that would not prohibit U.S. recovery.
However, they are careful to point out that "a U.S. president cannot credibly threaten and should not launch a strategic nuclear strike if expected U.S. casualties are likely to involve 100 million or more American citizens." Less than that, however, is appealing considering the victory to be achieved:
The USSR, with its gross overcentralization of authority, epitomized by its vast bureaucracy in Moscow, should be highly vulnerable to such an attack. The Soviet Union might cease to function if its security agency, the KGB, were severely crippled. If the Moscow bureaucracy could be eliminated, damaged, or isolated, the USSR might disintegrate into anarchy . . . Once the defeat of the Soviet state is established as a war aim, defense professionals should attempt to identify an optimum targeting plan for the accomplishment of that goal.
Naturally, Gray and Payne insist that "the primary interest of U.S. strategy is deterrence" but they add a caveat that was certain to be understood by those of the "war-fighting persuasion":
However, American strategic forces do not exist solely for the purpose of deterring a Soviet nuclear threat or attack against the United States itself. Instead, they are intended to support U.S. foreign policy . . . Such a function requires American strategic forces that would enable a president to initiate strategic nuclear use for coercive, though politically defensive, purposes.
Imagine that you're a Russian leader reading these words (as they were certain to have). The only rational response was to actively promote your own nuclear deterrence so that the Americans wouldn't feel so confident that they could wipe out your entire capacity. This is, incidentally, the exact same rationale that North Korea and Iran have today (considering what took place in Iraq, it would appear their concern is justified). However, despite claims that the United States was trailing behind the Soviet Union in nuclear capability, the reality is exactly the opposite throughout most of the Cold War.
According to a 2006 study by the Bulletin of the Atomic Scientists, while John F. Kennedy was campaigning in 1960 on the idea that there was a "missile gap" between the United States and Russia, we possessed 20,434 tactical nuclear weapons compared to their paltry 1,605. A missile gap certainly existed, but to claim that the Russians were ahead was a delusional fantasy or a deliberate lie.

The United States maintained nuclear supremacy throughout most of the Cold War.
Data from
Bulletin of the Atomic Scientists
, July/August 2006
In fact, the United States maintained a decisive nuclear advantage for the first 33 years of the Cold War. Interestingly, it was only at Russia's peak nuclear capability of 45,000 weapons in 1986 that Reagan began making serious overtures for peace. Looking at just the numbers, it appears as though it was Russian deterrence that won the day rather than that of the Americans. However, it was a peace that was established following incredible waste and a very real threat of global annihilation. To this day, most people still have no idea how close we actually came.
In 2002, at a conference that was held in Havana to commemorate the 40th anniversary of the Cuban missile crisis, it was revealed that the world was spared a nuclear war thanks to the actions of a single individual. As Noam Chomsky relates in his internationally acclaimed Hegemony or Survival:
They were informed that in October 1962 the world was "one word away" from nuclear war. "A guy named Arkhipov saved the world," said Thomas Blanton of the National Security Archive in Washington, which helped organize the event. He was referring to Vasili Arkhipov, a Soviet submarine officer who blocked an order to fire nuclear-armed torpedoes on October 27, at the tensest moment of the crisis, when the submarines were under attack by US destroyers. A devastating response would have been a near certainty, leading to a major war.
As we reflect on the horror that was unleashed on the Japanese civilians of Hiroshima 64 years ago today, perhaps we can offer a silent thank you to that Soviet officer who did the right thing in a moment of crisis. I only wish the leaders of my country had done the same.