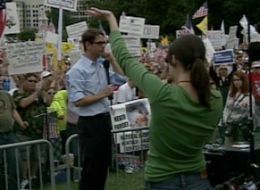 Fair and balanced ain't what it used to. The Huffington Post has published video of FOXNews producer Heidi Noonan encouraging protesters at the 9/12 event to be loud and boisterous while Griff Jenkins "reported" on their outrage. Noonan is seen motioning to the crowd periodically while speaking to an unknown individual on her cell phone. At one point she attempts to hide from the camera that has her in the shot.
Here is the video released at HuffPo:
Now here is the "objective" reporting that viewers at home saw (via Media Matters):
Notice how Jenkins and Beck both claim that this movement is a grassroots campaign and reject the accusation of "astroturfing" (promoting the illusion of outrage through an effective media campaign). I know it's a rather tired point at this stage of the game, but does Fox have any notion of what hypocrisy means?