Grand evolutionary dramas about human origins capture our imagination and the stories provide context as to how we view ourselves. They are the scientific version of creation myths. However, unlike Adam and Eve being fashioned in the garden or humanity being vomited up by the giant Mbombo (as the Bakuba people of Congo believed), scientific origin stories are rigorously critiqued based on the best available evidence.
Friedrich Engels, a sociologist and future collaborator with Karl Marx, wrote one of the earliest scientific human origin tales in 1876. In his essay "The Part Played by Labour in the Transition from Ape to Man" he argued that anthropoid apes, by using their hands differently, began to walk upright.
This was the decisive step in the transition from ape to man. . . Thus the hand is not only the organ of labour, it is also the product of labour.
Engels' clear interest in promoting his political goals, rather than accuracy in science, resulted in the early death of his idea. In the years to follow there were a number of popular interpretations of human origins, each one seeking that fundamental difference which separated us from other apes. "Man the Hunter" lasted until chimpanzees were found to organize cooperative hunts of colobus monkeys. "Man the Toolmaker" was popular for a time, but then chimpanzees and bonobos were found to fashion implements themselves. Perhaps culture is what made us unique? Nope, wrong again. Each time that scientists tried to wedge an argument between human uniqueness and other great apes the result was the same: back to the drawing board. Given this background, it is wise to approach new origin stories with caution.
With the discovery of Ardipithecus ramidus, Owen Lovejoy has stepped forward to present a new vision for the evolution of humanity. Unfortunately, while the scope of his argument is impressive (incorporating bipedalism, increased brain size, concealed ovulation and monogamy all in one story) the pieces don't all fit together very comfortably.
Like those before him, he starts his journey on the same wrong foot and announces that:
An essential goal of human evolutionary studies is to account for human uniqueness. [And, earlier, stating] We can no longer rely on homologies with African apes for accounts of our origins and must turn instead to general evolutionary theory.
Ardipithecus demonstrates this, Lovejoy says, because males and females were roughly the same size (low sexual dimorphism), they were quadrupeds that walked on all fours rather than being knuckle-walkers like chimps, bonobos or gorillas, and they had reduced canines suggesting an omnivorous diet unlike Pan or Gorilla. Based on this Lovejoy again insists that "Ar. ramidus now confirms that extant African ape-based models are no longer appropriate."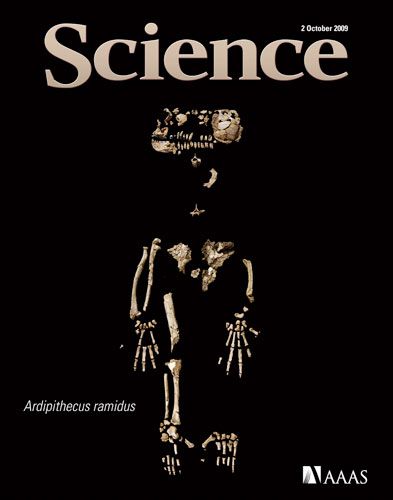 Lovejoy's origin story is as follows: The similar size between males and females suggests that Ardipithecus was monogamous. Bipedalism evolved when males would carry food back in order to entice her to have sex (as has been observed in chimpanzees and bonobos). Concealed ovulation then evolved when females wanted the males to stick around, so it was useful to disguise fertility to keep the male guessing. In a nutshell, Lovejoy has introduced "Man the Provider." Now just imagine a manicured lawn with a white picket fence and you have all the trappings of 1950s Mayberry.
However, rather than a grand unveiling it would be more appropriate to call this theory a rebranding. Lovejoy made the identical argument in 1981 for Australopithecus afarensis. Ironically, a major portion of his argument then relied heavily on homology with chimpanzees. All of the same arguments for Austalopithecus were present and have been repackaged for Ardipithecus: male provisioning, concealed ovulation, and pair bonds. However, in his 1981 paper he took his argument even further:
Can the nuclear family not be viewed as a prodigious adaptation central to the success of early hominids? If the model is correct . . . it implies that the nuclear family and human sexual behavior may have their ultimate origin long before in the dawn of the Pleistocene.
As they say, if at first you don't succeed... As noted above, the only evidence Lovejoy has that Ardi was monogamous is the reduced canines and low sexual dimorphism. However, bonobos also have reduced canines and paleoanthropologist John Hawks speculates (see comments on this post) that canine size dimorphism is just as great in these apes as in Ardipithecus (he also points out that canine size is highly variable in hominids).
Primatologist Frans de Waal has also criticized Lovejoy's argument that Ardi was monogamous [also see his comments below]:
Whereas the chief anthropologist on the Ardi team goes by the bonobo-like name of Owen Lovejoy, he focuses all of this attention on the chimpanzee, as is tradition in his field. Since chimps are violent and Ardi probably wasn't, he argues that we have a totally unique creature on our hands. His pet theory is that this must mean that Ardi and her contemporaries were monogamous, but unless the diggers come up with a male and female fossil holding hands and having wedding rings, the idea that these ancestors avoided conflict through pair-bonding remains pure speculation. There is no evidence for it, and the only pair-bonded primate we have in our direct lineage (the gibbon) has in fact huge canine teeth.
Furthermore, Richard Lawler in his recent paper in the Journal of Human Evolution shows that high sexual dimorphism in primates does suggest polygyny (single male - multifemale) but that the absence of sexual dimorphism is not an indicator of anything:
inferring polygyny from strong levels of sexual dimorphism is justifiable, however ". . . the converse--the absence of dimorphism--does not necessarily indicate monogamy, polyandry, or an absence of intense male mate competition" (Plavcan, 2000: 340).
Because Lovejoy didn't have enough evidence to demonstrate that Ardi was monogamous, he sought to buttress his argument with examples from modern humans. This time around, rather than saying outright that he's seeking to prove the naturalness of the nuclear family, he simply implies it with a myriad of selected details. He first suggests that humans have no sperm competition. This is wrong, as is clear from a quick perusal of Steven Platek and Todd Shackleford's book Female Infidelity and Paternal Uncertainty.
His other approach is to argue from comparative neurophysiology. Here he is on even weaker ground because the neurological evidence for monogamy is from voles and has never been studied in humans. After discussing the role of the neuropeptides oxytocin, arginine vasopressin, and prolactin and their different distributions in monogamous versus polygynous voles, he states that the receptors are located in "the central corridor that is activated in human cocaine addiction." He then reports a study in which women were shown pictures of men whom they were in love with and cites that they "looked remarkably similar to those observed after cocaine or u-opiod infusions". This is very specious reasoning.
While it's clear where Lovejoy wants to go with his argument, the reality is that humans just don't fit nicely into the nuclear family household he's been advocating for thirty years. The majority of human societies are not monogamous. Murdock's Ethnographic Atlas shows that, out of 1157 human societies studied, 982 practiced polygyny. Only 14.5% were monogamous. Our own society is far from monogamous as well, with about 1/4 of all children born to unmarried mothers who were not cohabiting with the father and estimates that 1 in 25 dads are not actually the father of their children.
Across societies estimates of marital infidelity range from 26 to 70 percent for women and from 33 to 75 percent for men (Shackleford and Buss 1997). With the rate of divorce based on infidelity being what it is (about 25 - 50 percent of all marriages depending on the country), and the rate of extra-pair copulations being so high, it seems that monogamy would hardly be the word to describe our own society, let alone the human species as a whole.
However, it's unlikely that humans would be classified as polygynous either. Human sexual dimorphism isn't large enough to justify the often extreme differences in size that accompany such a mating strategy. The most parsimonious answer is that humans lie closest to the multimale-multifemale strategy that the majority of primates have (and our two closest relatives). Human cultural factors have then influenced various societies into one of the two primary marriage systems. However, as I demonstrated in my earlier post, many indigenous societies have had flexible marriage systems which frequently was to a woman's advantage.
What does this mean for human societies today? Rather than trying to force a rigid mating structure onto our species we should embrace who we are. I for one am quite happily living in a stable monogamous relationship and don't have any plans to change that. But that's simply what I prefer, others are different. Human beings have the most varied sexuality of any primate other than bonobos. Our species has been attempting to deny their connection to the great apes for hundreds if not thousands of years. It's clear that we share some aspects with chimpanzees, but I think further research with our other evolutionary cousin could show great promise.
What remains unfortunate is that, by merely repackaging information and attempting to make it work for a new species, Lovejoy has shown that he already had his mind made up and was simply adjusting the facts to fit a preexisting argument. What was left out of his story is nearly as telling as what was included. As for where we go from here, I wouldn't be too discouraged. Anthropology enthusiasts are used to having fantastic claims made, only to find that the story was a little too good to be true. The grand evolutionary drama will continue. The good ideas will rise, the bad ones will fall, and in the end we'll discover our place in the natural world.
Reference:
Lovejoy, C. (2009). Reexamining Human Origins in Light of Ardipithecus ramidus Science, 326 (5949), 74-74 DOI: 10.1126/science.1175834