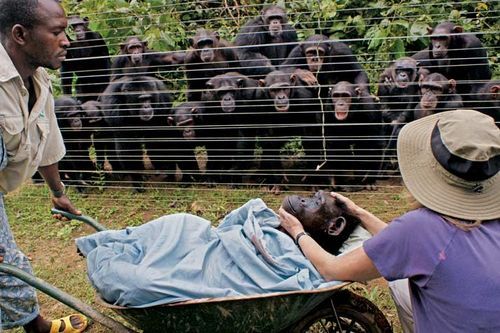 At the Sanaga-Yong Chimpanzee Rescue Center, chimpanzees form a gallery of grief, looking on as Dorothy--a beloved female felled in her late 40s by heart failure--is borne to her burial.
Image: National Geographic /
Monica Szczupider
The Prancing Papio has brought attention to this powerful photograph presented by National Geographic showing chimpanzees focused on the body of a recently deceased member of their community. I still remember the powerful effect it had on me when I saw Jane Goodall's The People of the Forest which showed how one young male, who was fully capable of taking care of himself, was so distraught by his mother's death that he refused to leave his nest for days and eventually died. It was a clear example of the power that mourning had over our evolutionary cousins.
As The Daily Mail reported about the photograph:
Until recently, describing scenes such as this in terms of human emotions such as "grief" would have been dismissed by scientists as naive anthropomorphising. But a growing body of evidence has suggested that "higher" emotions - such as grieving for a loved one and even a deep understanding of what death is - may not just be the preserve of our species.

Chimpanzees - as revealed in November's National Geographic magazine - and closely related bonobos maintain hugely complex social networks, largely held together by sex and grooming. They have often been observed apparently grieving for lost family and tribe members by entering a period of quiet mourning, showing subdued emotions and behaviour.