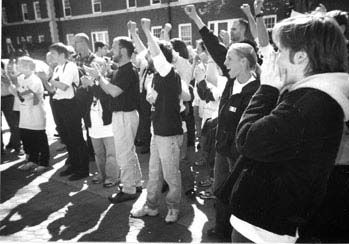 In an overwhelming majority members of the Graduate Employee's Organization (GEO) at the University of Illinois at at Urbana-Champaign authorized their union to to go on strike if the university doesn't change direction in their current negotiations.
According to a GEO Press Release sent out Monday:
Over the course of a three day vote, an overwhelming 92% of participating GEO members chose to authorize a strike against the Board of Trustees of the University of Illinois. With the vote, GEO members have given the strike committee of the GEO a clear mandate to call a strike at any time. The Graduate Employee's Organization, American Federation of Teachers/Illinois Federation of Teachers Local 6300, AFL-CIO, University of Illinois at Urbana-Champaign, is a labor union representing all teaching and graduate assistants (TAs and GAs) on the UIUC campus. With over 2600 GEO members, and over 2600 graduate employees represented in the bargaining unit, the GEO is one of the largest higher education union locals in the United States.
The union is asking that the university set the minimum salary for a 50% nine month appointment at the University's estimate of a living wage for all Teaching Assistants and Graduate Assistants. Graduate students teach nearly one quarter of all classroom hours yet bring in 6.5% of the state funds, compared to 55% for faculty. The University administrators claim that paying TAs a living wage is impossible given the budget crisis in Illinois. However, as GEO points out, the administration has made some dubious choices on where to allocate scarce resources:
Instead of advocating on the behalf of students and workers, administrators were granting costly favors to state politicians. The former Chancellor diverted $450,000 of discretionary funds to provide jobs and scholarships for politically well-connected but undeserving applicants. Another $400,000 went to the attorneys who represented the University before the Governor's investigative committee, and another $550,000 to new faculty appointments for the former President and Chancellor. In this context, the GEO finds it hard to trust the UIUC administration when it argues that there is not enough money to provide a living wage. From the GEO's perspective, it appears that budget priorities are simply out of place. When campus revenues rose by 7% in FY 2009, only 0.8% ($2.7 million) went to undergraduate instruction. Meanwhile, the Chief Information Officer's budget rose by 10.9 percent ($1.6 million), and the Division of Intercollegiate Athletics budget increased 6.2 percent ($4.1 million).
The members want to avoid a strike at all costs and will be holding a rally at the University of Illinois Board of Trustees Meeting in Springfield, IL on November 12. The rest is up to the administration.