Part 1 / Part 2 / Part 3 / Part 4
Richard Hofstadter wrote in Social Darwinism in American Thought that this political theory was "one of the leading strains in American conservative thought for more than a generation." In this series I have shown many of the inconsistencies that exist in the literature on social Darwinism and have emphasized the main objections that scholars have raised about the utility of the term.
In Part 1 I presented the standard definition of social Darwinism as defined by Richard Hofstadter and R.J. Halliday. In Part 2 I highlighted the common objection that there was very little connection with Darwin or his work in these ideas and that, rather, the key tenets were already in place before Darwin published On the Origin of Species. In Part 3 I pointed out how social Darwinism is not a coherent political theory that offers useful predictions about political behavior but is rather an amalgamation of tenuously related ideas. Now, the third category of objection I will discuss is that there is little documentation that exists from proponents of social Darwinism to claim the influence that some scholars assert.
It is notable that in Hofstadter's chapter on imperialism there exists only a single quote that unequivocally makes the connection between Darwinism and imperialism, and that comes from a critic. The closest a proponent of imperialism ever comes is that of Theodore Roosevelt who called on Americans to embrace a "strenuous life" of war in Cuba and the Philippines or "stronger peoples will pass us by, and will win for themselves the domination of the world." However, that Roosevelt was familiar with Darwin's work is well documented. He wrote three essays on the subject, "Social Evolution" (1895), "Biological Analogies in History" (1910) and "The Origin and Evolution of Life" (1918). In the first he wrote "the rivalry of natural selection is but one of the features of progress," the most important being "character." These are views taken directly from Herbert Spencer. However, in the latter two essays Roosevelt rejects evolution as an explanation of man in society. Historian David Burton suggests that Roosevelt's inconsistency can be explained because:
[H]e may have embraced some aspects of the doctrine of natural selection out of expediency because they justified actions he judged to be practically in order.
The only other figure that comes close to being an advocate of social Darwinism in this chapter is Rear Admiral Stephen B. Luce who states that "strife in one form or another in the organic world seems to be the law of existence," a view that dates back to Plato's Laws. In contrast, the opponents of imperialism were much more blatant. Hofstadter quotes Max Nordau writing in 1889 that:
The greatest authority of all advocates of war is Darwin. . . Since the theory of evolution has been promulgated, they can cover their natural barbarism with the name of Darwin and proclaim the sanguinary instincts of their inmost hearts as the last word of science (p. 171).
Likewise, historian William Roscoe Thayer is quoted condemning the "German mentality" that he said advocated Darwinian imperialism (a view that was false, according to Hofstadter).
They interpreted the doctrine of evolution so as to draw from it a warrant for their aspirations. Evolution taught that 'the fittest survived' (pp. 197-8).
That Darwinian metaphors in Hofstadter's book were only used to speak against imperialism is in fitting with the earliest known usage of the term. In nearly all cases it was used pejoratively as a way to dismiss views with which an author disagreed. However, crucially, these charges of social Darwinism were often talking about very different things, which speaks to its lack of coherence as a political theory. The earliest known appearance of the term "social Darwinism" was in a 1877 book by Joseph Fisher entitled The History of Landholding in Ireland. In it he objects to the view that the Irish chiefs "'developed' into a feudal baron," preferring the view that the English settlers improved the social system from its "inferior owners" in much the same way he believed the British Empire was doing around the world.
I can find nothing in the Brehon laws to warrant this theory of social Darwinism. . . The early Norman and English settlers denounced the tanistry system as barbarous and uncivilized, and acted towards it in the same manner as the English of recent times have acted towards the Hindoo and New Zealand land systems.
The next known use of the term came in a pamphlet written by the French anarchist Ãmile Gautier in 1880. Gautier condemned the Spencerist vindication of extreme individualism and insisted that a Darwinian social theory should be one of cooperation, not competition (a thesis later made famous by Peter Kropotkin in Mutual Aid). The next occurrence was by French psychologist Gabriel Tarde who wrote against social Darwinism in 1884 and likewise advocated cooperation (for a full discussion of these sources see La Vergata's paper "Darwinism and the Social Sciences, 1859-1914").
This early use of social Darwinism is very instructive. We have a conservative imperialist using it to label a liberal theorist whose ideas he disagreed with, an anarchist using it to promote cooperation, and a liberal psychologist using it to dismiss the laissez-faire conservatives. This suggests the term meant whatever it was that people wanted it to mean, and mostly they meant for it to be an epithet. Paul Crook notes that "much of the imagery of Darwinized jingoism was in fact evoked by enemies of imperialism," the evidence from proponents being "rare efforts [that] were relatively uninfluential."
In fact, the term social Darwinism itself was all but unknown to English-speaking readers before the Progressive Era. In an exhaustive bibliometric analysis of the Anglophone literature, Geoffrey Hodgson determined in the Journal of Historical Sociology (pdf here) that the term "social Darwinism" appeared only nine times in any article or review published between 1850 and 1914.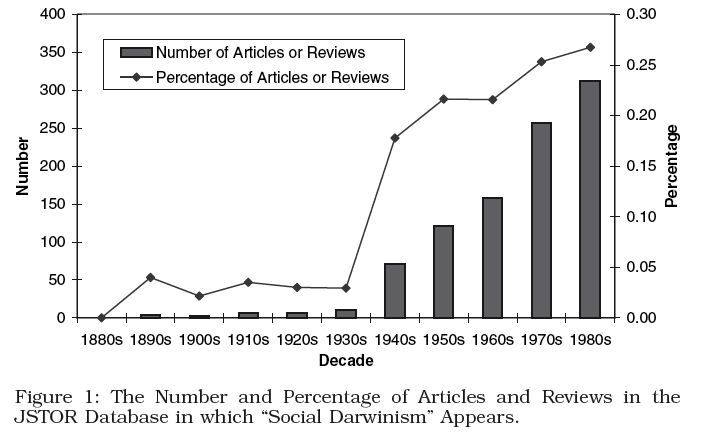 In contrast, the name "Darwin" had 2,458 citations and "Spencer" had 2,786. But, perhaps the term wasn't widely used until the theory had gained more traction and its critics multiplied? Not true. Between the First and Second World Wars there were only 49 articles or reviews citing the term. This amounts to less than one reference per year over the eighty-five year period between Darwin's On the Origin of Species and Hofstadter's Social Darwinism. This is an astonishingly low number for a political theory that Hofstadter insists was "one of the leading strains in American conservative thought for more than a generation." To put this into context, since Hofstadter published his book in 1944 the term social Darwinism has appeared 4,258 times. This history gives every indication that social Darwinism as a theory was invented by Hofstadter and that it had only negligible influence prior to his book.
Despite these significant concerns in the historiography of social Darwinism, I believe that there is a way to untangle the problem. Historian Mike Hawkins suggests abandoning the standard definition and basing social Darwinism on the application of Darwin's biology to sociology. Hawkins defines social Darwinism as a set of five presuppositions:
(i) biological laws governed the whole of the organic world, including humans, (ii) the pressure of population growth on resources generated a struggle for existence among organisms; (iii) physical and mental traits conferring an advantage on their possessors in this struggle (or in sexual competition), could, through inheritance, spread through the population, (iv) the cumulative effects of selection and inheritance over time accounted for the emergence of new species and the elimination of others. . . [and v] this determinism extends to not just the physical properties of humans but also to their social existence and to those psychological attributes that play a fundamental role in social life, e.g. reason, religion and morality.
The advantage of Hawkins' definition is that it relies exclusively on Darwinian elements, while acknowledging that these core ideas could still be applied in a variety of ways. This is a view shared by Robert Young in which he views social Darwinism as "a broad church" that conveyed optimism by some and pessimism by others. Gloria McConnaughey likewise concurs where she states in the premiere journal for the history of science, Osiris, that:
If by Social Darwinism we merely mean the application of natural selection to ethical and social problems, the answer is obviously yes. If, however, Social Darwinism is taken to refer to the strongly imperialistic, racist and anti-social-reform uses of natural selection, the answer is just as clearly no.
In this way social Darwinism can be useful, not only to understand the history of social applications of evolutionary theory, but used today to study how human evolved characteristics continue to affect our social lives. Not all of these approaches have been or are useful. Some of them have been racist and imperialist, others have been overly utopian. However, dismissing the possibility that evolution has something to teach us for our own lives is a tremendous disservice. What it requires is good science, not a rejection of the very idea because of the junk science that came before.
This is currently being done. In publications such as the Journal of Evolutionary Economics or in books ranging from Paul Rubin's Darwinian Politics, Peter Singer's A Darwinian Left, Michael Shermer's The Mind of the Market or Frans de Waal's The Age of Empathy authors are showing how evolutionary principles can be used to consider how best to organize our social system given our fragile planet with its finite resources. This is ultimately an ecosystems question and biologists have many of the skills it will take to find a solution. Previous social planners have come from the assumption that humans were different from all other creatures in the natural world. When they constructed our modern civilizations, what I often refer to as the human zoo, they assumed that understanding how humans interact in their "natural habitat" wasn't important. They made decisions based on economics and utility, not smart science. Some theorists in the past may have borrowed terms from the hottest science of the day to justify their own malevolent goals. That should be a warning for us, but it shouldn't discourage us from using the best information available to construct a world that we all want to live in.
Part 1 / Part 2 / Part 3 / Part 4
References:
Hawkins, Mike (1997). Social Darwinism in European and American Thought, 1860-1945, Cambridge: Cambridge University Press.
Hodgson, G. (2004). Social Darwinism in Anglophone Academic Journals: A Contribution to the History of the Term Journal of Historical Sociology, 17 (4), 428-463 DOI: 10.1111/j.1467-6443.2004.00239.x
La Vergata, Antonello (2009). "Darwinism and the Social Sciences, 1859-1914,"
Rendiconti Lincei: Scienze. Fisiche e Naturali 20, 333-343.
McConnaughey, Gloria (1950). "Darwin and Social Darwinism," Osiris 9, 397-412.