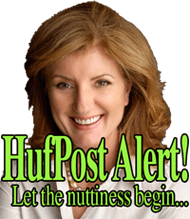 Here at ScienceBlogs we regularly take The Huffington Post down a notch by pointing out such cutting edge lunacy as vaccine denialism or pseudoscientific spiritualism masquerading as health advice. Now the latest in a long list of unsubstantiated crazy is on full display.
Some writer named Eric Michael Johnson, who clearly thinks he's so self important as to include his middle name, has published an article called "Haiti's Political and Economic Earthquake" on the US and World Bank role in maintaining Haiti's poverty.
Since 1990 there have been two US-supported military coups, a series of economic "readjustments" at the behest of the World Bank, and a US corporate trade bill that have all served to return the former slave population to economic serfdom. Up until the earthquake on January 12, two-thirds of Haiti's exports were apparel products contracted by multinational companies such as K-Mart, Wal-Mart and the Walt Disney Company. And while the Magic Kingdom was stocked with goods made in Haitian sweatshops, 80% of the residents lived below the poverty line and earned less than $2 a day.
But we all know that couldn't be. Especially when The New York Times reported on Sunday that:
Western donors invested hundreds of millions of dollars in state-building. But Mr. Aristide and the new elite he promoted proved as contemptuous of popular welfare as their predecessors. In 1998, the World Bank reported that "political instability, woefully poor governance and corruption" had again frustrated hopes for reform.
Sounds like a lot of woo. I make it a policy to never read the articles at Huffington Post, so you'll have to let me know what you think of it here.