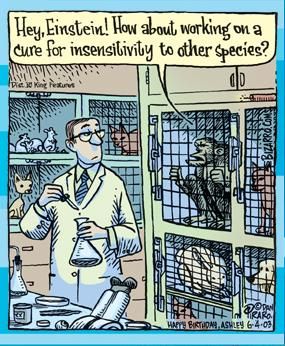 It's wonderful to see that my Open Letter to the Animal Liberation Front has generated discussion on this important topic. The issue as I see it is really quite simple and boils down to two essential issues: the benefits to science versus the ethics of invasive animal experimentation. The British Medical Journal study and BUAV report (pdf) that I cited hold the position that the harm done to animals, particularly primates, is out of proportion to the benefits that come from such research. Furthermore, our current understanding about primate cognition, emotional complexity, and their rich social lives raise significant questions about using these animals for invasive medical research. However, to resolve this conflict we will need both the tools of the scientific method and the moral considerations involved in making ethical policy decisions.
This is an extremely complex and difficult issue and can generate a lot of heated emotions on all sides. Several years ago my mother was diagnosed with cancer and the chemotherapy treatment she received had been developed and tested using primate models. At the same time my work in primatology has revealed to me the joy that a baby monkey or ape clearly experiences when protected in their mother's embrace. So I'm fully aware what a difficult topic this is both for researchers and the general public alike.
However, few may realize it, but the United States is completely outside of the international consensus on this issue. Only the U.S. and Gabon allow using great apes for invasive research purposes and we have the largest number of individuals, an estimated 1,200 chimpanzees, at nine U.S. laboratories (see Table 1 below). It is estimated that between 550-650 are government owned while private parties or institutions own the rest.

Research institutions conducting invasive experiments on chimpanzees. From Conlee (2007).
The majority of these animals are used in Hepatitis and HIV research. Despite the exacting protocols that are mandated by current legislation, such as the Animal Welfare Act, Public Health Service Policy and CHIMP Act, these animals spend much of their lives in great pain and with high levels of stress. For more on this please see K.M. Conlee's report published in the Proceedings of the 6th World Congress on Alternatives & Animal Use in the Life Sciences (pdf here).
Bipartisan legislation has consistently been proposed to bring the United States into line with the rest of the world on this issue, but the bills have regularly been defeated in committee based on the pressure from powerful lobbying interests. This has created extraordinary frustration among animal rights organizations and some individuals have turned their anger into direct action. Their websites maintain regular allusions to human liberation struggles of the past and to such organizations as the underground railroad that sought to smuggle African-American slaves to freedom. It was for this reason that I chose the particular historical examples that I did in my letter to them.
Of course, the connection between animal rights and human rights is a controversial one, particularly when any comparisons are made to the struggles of minority groups. However, throughout history oppressed groups have regularly been used in invasive experiments, often without their consent. This is especially true in the American context. The folklorist Gladys-Marie Fry in her book Night Riders in Black Folk History chronicled an African-American oral tradition about "night doctors" between the years 1880 and 1915, during the period when many blacks migrated to northern cities. These stories expressed the fear of many ex-slaves that the "night doctors" would kidnap them for experimentation and dissection.
According to the book Subjected to Science: Human Experimentation in America Before the Second World War by University of Wisconsin-Madison Medical History and Ethics professor Susan E. Lederer, it was revealed how many of these fears were justified. But it also demonstrated how the animal rights movement and the human rights movement have frequently gone hand in hand throughout history:
During this period [1900-1940], the moral issues raised by experimenting on human beings were most intently pursued by men and women committed to the protection of laboratory animals, the American antivivisectionists. . . In fact, it was an antivivisectionist sympathizer, British playwright George Bernard Shaw, who first introduced the term "human guinea pig" in the early twentieth century, to make clear the vivisector's equation of human and animal subjects (p. xiv).
The connection between human exploitation and animal exploitation is a complex but important issue. The oppression of other human groups occurs through a process of dehumanization. Whether the perpetrators were white slave owners, Nazi military doctors, or Japanese occupation forces in China, the use of invasive experiments was justified only because the powerful were able to convince themselves that "the other" was somehow less than human.
But animals already are less than human. This is where an understanding of evolution is important. When viewed along the continuum of evolutionary time we know that our species shares a close kinship with other primates and mammals. If it is universally accepted that humans should not be experimented upon, what about an individual that is 98.6% human (or rather, shares 98.6% of our DNA) such as chimpanzees? What about 93% in the case of macaques, the most used primate in invasive experiments today? This is a complicated issue and is something that requires a great deal of public discussion.
As it currently stands, there is intransigence on the side of scientists engaged in this research, influential government and private institutions that lobby Congress to maintain the status quo, and animal rights advocacy groups that submit report after report with little headway. It should come as no surprise that some people would break off from traditional channels and engage in extreme actions. Some of these individuals may be ideologues akin to the anti-gay or anti-abortion activists that one would find in rallies organized by Fred Phelps or Operation Rescue. However, I believe that most are people who are fed up with the stalemate on this issue and want to see change happen now.
We can and should condemn any and all actions when they pose a danger to innocent people, but we should also place those actions within the appropriate context. That is, if we genuinely care about resolving the issue. The reality is very simple. As long as nothing changes you can expect such actions to continue or even grow. I believe that creating responsible changes to US law would, not only put us in good standing with other researchers worldwide, it may also reduce the level of anger that this issue currently generates.