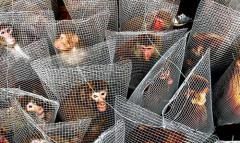 Image Source: Monkeys in the NewsMonkeys In the News has alerted me to an Associated Press story today about a Nevada research lab, part of Charles River Laboratories, that is one of the world's largest suppliers of clinical and laboratory research services to pharmaceutical and biotech companies. The company was fined after thirty monkeys died as the result of not following proper procedures. While it is clear that there are necessary medical reasons for using primates in invasive experiments, I think everyone can agree that strict regulations need to be put in place to prevent negligence or abuse.
A series of errors began when a repair technician left the heater in the "ON" position at 8:20 a.m. An alarm three minutes later warned the temperature in the primate room had risen to an unsafe 84 degrees, but no one noticed it, a Department of Agriculture report shows. Another alarm went undetected nearly two hours later.

It wasn't until 12:30 p.m. that lab personnel found 30 dead monkeys. Surviving monkeys were moved to a cooler location and given fruit; two later had to be put down.

Workers quickly opened the doors to circulate air and gently sprayed down the monkeys with a hose, according to a government report. It's not known how hot it got in the quarantine room.

It wasn't the only problem for the company.
Another monkey died after going through a cage washer last year. In 2007, Agriculture Department reports show two monkeys at the now-closed Sparks lab had fingers amputated after they were caught in the wiring of their cages while being moved, and a third monkey suffered a cut to the tip of its tail.

In addition, the former director of laboratory sciences at the Sparks lab has filed a civil lawsuit accusing the company of mistreating research animals, falsifying records to cover up the abuse and firing him in October 2007 for complaining about it.
The AP story goes on to say that, according to Agriculture Department records, Charles River Laboratories is one of the largest violators involving negligence in animal deaths nationwide. Charles River had sales of $1.2 billion in 2009 and reportedly housed nearly 10,000 primates nationwide in 2008. Under existing legislation, as part of the Animal Welfare Act, violators are required to pay a fine of $10,000 per violation. The AP reports that the lab where the monkeys died in Nevada was fined only $14,000 based on this and a separate incident. The Animal Welfare Act was amended in 2008 which increased the fine from $2,500.
Rep. Steve Israel, D-N.Y., a senior member of the House Appropriations Committee, co-authored the amendment raising the fines in 2008 and has been urging USDA to fully exercise its authority under the law ever since.

"I increased the penalties for Animal Welfare Act violators from $2,500 to $10,000 in 2008 for one reason: Serious violators of the Animal Welfare Act should be punished more severely," he said in a statement to The Associated Press on Wednesday.
My own view, which I've stated previously is that we should eliminate all testing on Great Apes as soon as possible as proposed under the bipartisan House Bill HR 1326 The Great Ape Protection Act that is currently before the House Committee on Energy and Commerce. We should also conduct a review on the use of primates in general, the same way that the European Union has been engaged in for the last couple of years (see, for example, here, here, here, here, and here).