I liked Freakonomics, so I'm a bit sad to see the (inevitable) sequel being so hopelessly wrong. Probably this is a case of the old rule: whenever you see people write about stuff you know, they get it wrong. Joe Romm has a fairly characteristic attack; and just for a change I'll agree with him; though he chooses odd bits to assault. It looks like the "global cooling" junk is just one chapter, but of course it is the only one I'll pay any attention to.
Diagnosis, in brief: (1) they write about stuff they clearly don't understand (2) they pick a catchy reverse-common-wisdom nugget as a headliner without the having the slightest interest in whether it is true or not (mind you, plenty of more respectable folk do the same) (3) they pick an expert to talk to, but since they don't have a clue about the subject they don't know how to pick a good expert, or even understand what the expert says (4) there is a grain of sense in there, but so badly wrapped in trash it is nearly unfindable.
The entire piece is riddled with errors. Reading it all would be tedious. So, before reading it in detail I decided to set myself a target of 10 major errors and then stop. Kindly, Romm has provided a PDF of the offending chapter, so you can play along at home.
[Update: The Economist (along with everyone else) shreds them too; but does it in measured language and speculates on the damage to their reputation -W]
[Late update: Harry Hutton hits the nail on the head -W]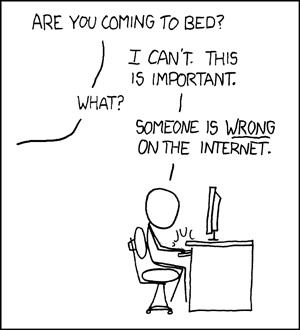 (1) Global cooling. Alas, there are still fools who fall for this one. [[Global cooling]] on wiki is a fair place to start if you're interested. That will point you to the definitive study on this issue, by Peterson, Connolley and Fleck. Still #1 on the AMS download lists, and this twaddle will keep it there a bit longer. This earlier post of mine will point you towards some other stuff. As I said in the intro, other people get this wrong - Iain Stewart did - and usually for the same reason: its a fun hook to hang a story on.
Incidentally, the Freakonomics folk aren't always wrong - p 167 has some sensible things to say about CO2 produced during food distribution that echo stuff that mt has been saying. If they'd stick to that, they'd be fine.
(2) p 168 makes the assertion that economics models are better than climate models. They provide no evidence at all to back this up, and I don't believe it.
P 168/9 has some moderately sensible discussion of the problems of acting when the costs aren't well known. They even bring in the Stern report (alas, without taking the chance to discuss the discount rate issue).
(3) GW a religion... core belief that mankind has inherited a pristine Eden (p 189). This is just junk. Ditto the bit about heretics - what is the boy Boris Johnson doing in there?
(4) Choosing James Lovelock as a spokesman for GW. Lovelock is a wacko, but I don't seem to have bothered take his stuff to pieces; the closest I can find is this sideswipe. Ah no! I did him over at the old place.
P 171: discussion of externalities. Good. Rather superficial discussion of the problem of solving emissions through taxation - but then these are anti-tax peole, so thats just their natural bias. P 174-5: rather extended example to demonstrate that externalities can be positive. This is all in preparation for the idea of cooling the planet via stratospheric injection of aerosol precursors, which Caldeira has been pushing. Long, rather tedious boosting of NM.
(5) All climate models produce the same answers because people tune the models to produce the same answers. Zero evidence for this one, and appears to be contradicted by the divergence of the range of models available.
(6) CO2 is over-emphasised because water vapour is the dominant GHG. I did that one years ago and I'm sure its been done again elsewhere (oh yes: RC). This is one of the have-you-got-a-clue issues; parroting this (as the Freakos do, and as their chosen climate experts do) shows that they are utterly hopeless.
(7) Most of the recent warming is due to clearing up particulates from earlier decades. Unlikely, given that sulphate forcing is increasing, not decreasing. Remember, this is global, not just the sunny US or Western Europe.
(8) CO2 doesn't necessarily warm: ice cores show that T rises *after* CO2 rises. Sigh; again, they need to read RC. Though I think Eric Wolff said it best.
(9) Sea level is rising due to thermal expansion. Yes, thank you, we knew that. Sea level has been rising since the LGM: yes indeed, but not at a constant rate, see e.g. [[Sea level rise]] (that isn't a great page; I put the link there partly in the hope that readers might try to improve it).
(10) Global temperatures are decreasing. Sigh, I suppose it was inevitable they would say that, and it seems a fitting note to end on. See RC.
I didn't even get as far as their solution; if you fight your way on you'll find its just geoengineering by injecting SO2 into the stratosphere; so far so dull. See RC.
[Update: The pdf is gone , so I can't check up, but I've recalled another error from the Freako's eggheads: that stopping the THC will stop the Gulf Stream. that is Wrong; the GS is a wind-driven western boundary current
Uupdate; UCS didn't think much of it either. I notice that they say "The authors claim climate models have a very wide range of future temperature projections (page 168)." which is quite funny since I quote them complaining that all the moels produce the same answers...
Uupdate: Nurture don't like it either -W]