Plot complexity is not, in and of itself, a measure of the quality of a work of communication, but it is surely a measure of something:
Frodo Baggins vs Luke Skywalker: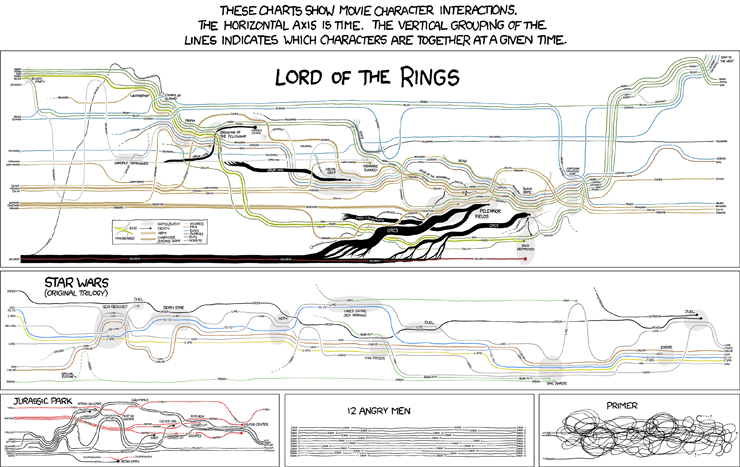 This is just awesome - click to embiggen
- from XKCD
Really big version is here...
Hm: the Ents actually sort of show up indirectly in the Shire, so could have a thread going back to there.
No Tom Bombadil thread?
The darned "Army of the Dead" really does show up out of nowhere as a plot device.
Why couldn't Aragon have gone up North to recruit the Dwarves of Iron Hills, Men of Dale and Elves of the Wood, and Beorn and his kin - that'd have made an army.
Probably not logistically possible to move fast enough to matter.
Ohh, how I love 12 Angry Men (the original).
"No Tom Bombadil thread?"
It's for the movie, not the book, which is why Saruman doesn't also head back to the shire...
Ah, I wondered what that sidetour Elrond made was.
Bloomin' movie.
Still nicely done.