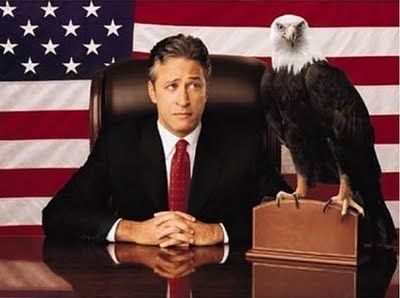 Last night Jon Stewart hosted the Israel/Palestine peace activists Anna Baltzer and Dr. Mustafa Barghouti. The angry response from the Pro-Israel crowd resulted in a backlash against the show for even having the discussion (including the show's first heckler in eleven years).
Baltzer, an American-Jewish author, has put out a public letter asking that people contact The Daily Show thanking them for hosting the discussion as a way to counter the angry response they've received so far.
Last night Dr. Barghouti and I were on The Daily Show with Jon Stewart talking about Palestine.

The show was overwhelmed with angry emails and phone calls prior to the appearance, and up until the last minute it seemed like they might cancel. During the taping the show had it's only heckler in 11 years. The entire staff were very nervous and may come to regret the monumental decision (and not make it again) as they will surely be inundated now that the show has aired.

That is why it is CRUCIAL that the show receive letters of support from anyone who appreciated the interview.

PLEASE take a moment to give a quick thank you to the Daily Show. I'm sure they will likely be affected by numbers rather than length, so it's OK to make it short, but spread the word to others! Be sure to put "Thank you" in the subject, and maybe Dr. Barghouti & my names. Fill out the form here: http://www.comedycentral.com/help/questionsCC.jhtml (make sure to choose The Daily Show with Jon Stewart as your topic).

I believe the interview wouldn't have happened 3 years ago. Times are changing. Keep on keepin' on...

Anna
You can also write a letter to: The Daily Show with Jon Stewart 604 W 52nd St New York, NY 10019.
The unedited interview of Anna Baltzer and Dr. Mustafa Barghouti can be seen at the following links (Part 1 / Part 2) and you can watch the videos below the fold.
Anna Baltzer & Mustafa Barghouti Extended Interview Pt. 1

Anna Baltzer & Mustafa Barghouti Extended Interview Pt. 2