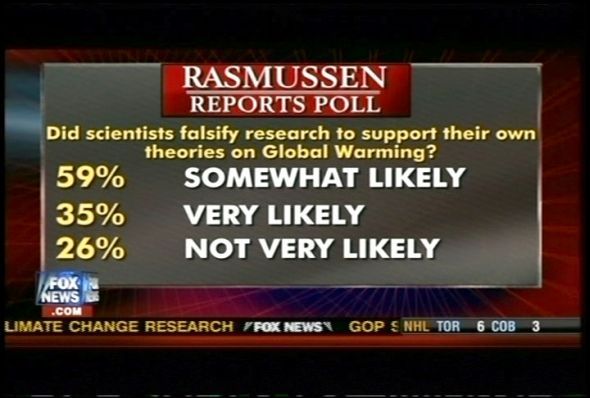 (updated below)
Media Matters is reporting that on December 4th Fox News manipulated the evidence from a poll to suggest that 94% of the US population thinks that scientists falsified evidence to support their beliefs about climate change. As can be seen, however, their numbers added up to 120%.
What happened? Well, here's the Rasmussen poll Fox & Friends cited. They asked respondents: "In order to support their own theories and beliefs about global warming, how likely is it that some scientists have falsified research data?" According to the poll, 35 percent thought it very likely, 24 percent somewhat likely, 21 percent not very likely, and 5 percent not likely at all (15 percent weren't sure).

Fox News' graphics department added together the "very likely" and "somewhat likely" numbers to reach 59 percent, and called that new group "somewhat likely." Then, for some reason, they threw in the 35 percent "very likely" as their own group, even though they already added that number to the "somewhat likely" percentage. Then they mashed together the "not very likely" and "not likely at all" groups, and threw the 15 percent who were unsure into the waste bin. Voila -- 120 percent.
So I'll conduct my own poll. In the comments below answer how likely is it that Fox intentionally manipulates the evidence to support their own theories and beliefs about global warming?
1. Not at all likely
2. Not very likely
3. Somewhat likely
4. WTF!? It's Fox News, what did you expect?
UPDATE: The Raw Story is also reporting another blatant error in Fox's reporting:
On Tuesday, as the network broadcast a speech by President Barack Obama in which the president announced that the US will spend $200 billion less on bank bailouts than previously estimated, the chyron at the bottom of the Fox News screen announced that the president's bailout savings would amount to ... $2 billion.

Raw Story has confirmed that, as of press time, Fox News hasn't corrected the error on air. But they certainly must know what the actual figure is, as the online version of the story correctly cited the $200-billion figure. (That bit of good news for taxpayers is buried way at the bottom of Fox's story.)

Fox's factual errors -- which somehow always seem to lean towards the network's conservative bias, rather than against it -- are quickly becoming the stuff of legend.