News, news, news!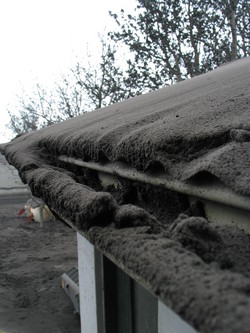 Ash from Eyjafjallajökull piling up on a roof at Seljavellir. Image courtesy of the IMO, by Ari Tryggvason.
The latest from Eyjafjallajökull has the volcano continuing to puff away - producing intermittent airspace closures over Europe. The Icelandic Met Office reports a ~7 km (21,000 foot) ash plume, but they note that the explosivity of the eruption seems to have waned some since a maximum on May 13. Right now, the IMO estimates the eruption rate at ~200 tonnes/second. Lets put that in a little perspective - a Ford F-150 pickup weighs about 2 tonnes, so the volcano is eruption the equivalent of 100 full size pickups a second. That is a lot of material! Overall, the explosive part of the Eyjafjallajökull eruption has produced ~0.25 km3 of material. You can see some of it piling up on homes near the volcano in Iceland (see above). The ash itself is swirling across the north Atlantic and northern Europe, causing some closures and reopenings of airports across northern Europe and Iceland. The NASA Earth Observatory has also posted a suite of images of the ash plume over the last few days - impressive as always. The same can be said for the new videos posted on Stromboli.net.
There are plenty more articles marking the 30th anniversary of the eruption of Mount St. Helens - including a piece by Eruptions' favorite Alan Boyle on the recovery of the area around the volcano. You can also check out a couple articles that speak to the threat the Cascades still pose to the Pacific Northwest. You might also get a kick out of the National Geographic take on the ten most "dangerous" volcanoes in the U.S. - including Crater Lake (a good entry, albeit a long shot), South Sister and Kilauea.
For all you volcano photographers, Beth Weise of the USA Today is writing a story about the small but dedicated band of international, amateur photographers who travel the world on their vacations taking pictures of volcanoes. If you have any insight, send me an email and I can forward it onto her.

An impressive shot of the Eyjafjallajökull eruption plume with lightning in an undated picture.